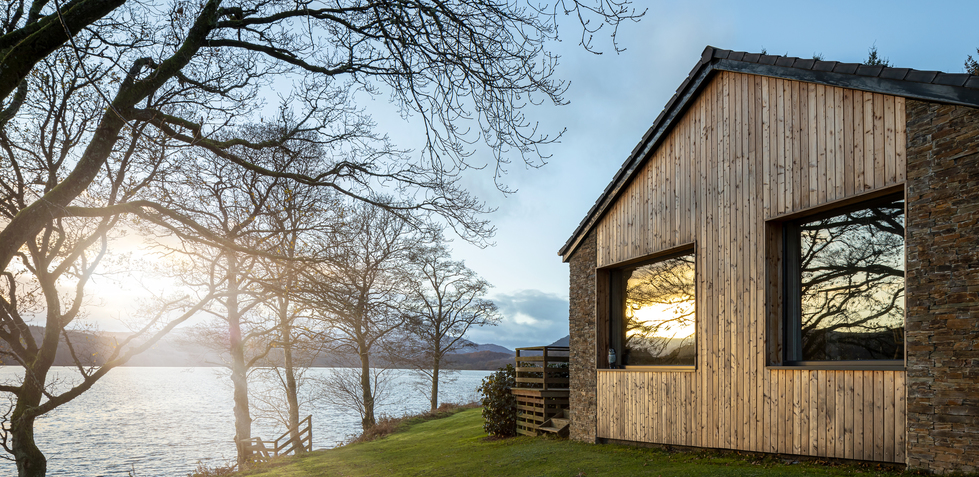 Stunning rural loch-side property makeover
External makeover for stunning rural property in the Trossachs
The Challenge
Our clients approached us to upgrade their detached Dorran built property near Callander in the Trossachs. The property lacked decent insulation, required a new roof and lacked kerb appeal. As a rental property, the best time to upgrade is during the quieter winter months, meaning our men were out in oil skins in all weather to ensure the transformation was complete in time.
The Solution
We chose a sandstone cladding system which is secured to a subframe of timber and specialist backing board. This allowed us to install solid insulation within the timber frame to reduce heat loss and increase insulation for the property. The cladding system is simple and effective and once installed looks amazing. The larch cladding complements the stone and over a few months, will fade to grey to match the stone.
We installed a new roof, solar panels, new doors and windows throughout, a woodburing stove in the main lounge, pétanque court and external seating snug with woodburner .
The Results
The property has been completely transformed and looks stunning. Rental yields have increased and the old and new guests have all commented positively on the transformation. The house has lost its tired, dated look and now has huge appeal now it has metamorphosed into an impressive contemporary rural home.
We had a major renovation of our property in the Trossachs completed by nest. The project was complex and wide ranging. nest were amazing to deal with. There were several sub contractors involved and all were excellent. nest made lots of constructive suggestions and when the work was under way, their staff were pleasant and cooperative. The nest team worked tirelessly through all weathers to get their work done to schedule.

We had to make a number of changes as the job progressed, but at no time was this ever a problem. When a change was needed, we discussed our ideas with Dene Happell who would clearly define the work in writing with the probable cost. When complete, the small amount of snagging was promptly and courteously deal with.
Their suggestion of a new outdoor snug area with wood burning fire was a brilliant idea and we have since had many a good night there enjoying the heat from the fire to keep us outdoors.

I would highly recommend nest – they successfully transformed our house to a beautiful contemporary home.