Testimonials
Hugh & Annette, Jordanhill
House extension
Our home has been completely transformed and we are so glad we chose nest to guide us through the process. Dene helped us look at our home with a new perspective and make the most of the budget allocated.
We are delighted with the end result and appreciate the attention to detail characteristic of the nest design approach.
Having one point of contact throughout, Dene has been extremely reassuring and helpful. nest widened our vision as to the possibilities for our home and we are thrilled with the end result.
Pam & Tony, Jordanhill
House extension
Special praise to Dene and Debbie Happell for having the vision, confidence, but above all the competence to see our project through.
All the team worked diligently – the head joiner merits particular praise for his attention to detail and the high quality of his work. nest's project management and process was seamless – we were always consulted on any changes, either in the build or variance in cost.
nest have commissioned and built a breathtaking contemporary extension which blends harmoniously with an Edwardian sandstone building. The result is simply stunning. We can't thank nest and their team enough for their efforts, or recommend them more highly.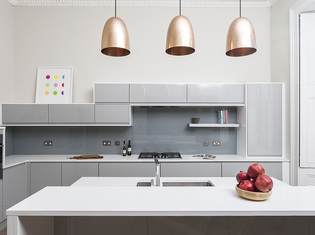 Ali & Martin, West End
House refurbishment
From the moment we began working with nest on the project, we knew we had made the right decision to award nest the contract. Dene's approach combined professionalism with approachability which made it easy to discuss concerns and ideas as the project progressed. His advice and choices of materials have been fundamental in how beautiful our new house has turned out. We are both over the moon!
During the project any issues were dealt with quickly and we always got the impression that it was just as important to nest as it was to us that the work and finish was of top quality. The tradesmen have always gone out their way to be polite and respectful of the fact they are working in someone's home. This was also much appreciated.
We couldn't speak highly enough of nest and would not hesitate in recommending them to friends or working with them in the future. They have helped us achieve something we have worked towards for a long time and we are very grateful."
Iain, Lochwinnoch
House refurbishment
The aim was to make everything as easy and comfortable for an older person on their own to live in. Dene and Debbie guided us on all aspects of layout, decor, fixtures and fittings, presenting a great range of quality options – with everything fully costed and programmed.
The works ran seamlessly, with updates every few days - nothing was left to chance and all issues were raised and resolved, usually within a few hours. All changes to scope and ongoing costs were captured in a weekly finance update, allowing us to easily track progress and spend.
The end result is wonderful, my mother is so happy with the house. A huge weight off our minds for her, and massive thanks to Dene and Debbie for making it achievable, and delivering a stunning wee house.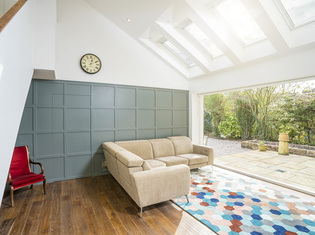 Chris & Brian, West End
House extension
We wanted a team with an eye on the finished look. We got that. Moreover, nest seemed to care about the end result as much as we did. It was a big plus to know that we could rely on nest to project manage the project and ensure quality workmanship.
With some rooms we lacked ideas (or had decision-making fatigue) and were delighted that nest had great tastes that we were happy to adopt....and when we had some bad ideas we liked that Dene would (gently!) challenge them.
nest are good communicators and were always contactable. We appreciated their email and/or texts, with only phone calls when needed as we did not want interruptions during busy days at work.
We liked the explicit payment plan - pay only for what jobs have been done from a pre-agreed list as it went on. They were quick to inform us of any additional agreed up-costs too. Great team work: Dene meeting clients and Debbie at base making it all happen. 
nest workers took pride in what they did – they were polite and informed. nest came highly recommended to us and, we in turn, would recommended them (and have done already) to others.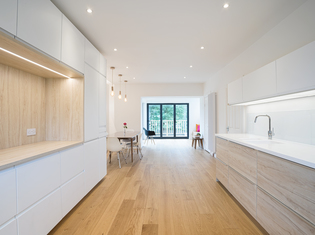 Frances & Richard, West End
House extension
We couldn't be happier with our new kitchen and extension. It's every bit what we dreamed of and more. Dene was exceptionally generous with his time during the planning stages and gave several excellent suggestions to make the space as practical and attractive as possible.
The nest team were, without exception, polite, personable, tidy and highly skilled. Every step of the way, nest have inspired our trust and we wouldn't hesitate to recommend them to anybody looking to invest in maximising the potential of their homes.
Frances, Hyndland
Flat refurbishment 
When I moved home early last year, there was a lot of work to do in my new flat. As I had previous experience with nest, I knew I could rely on them to help me realise my ideas. I was asking a lot, they delivered much more.
I was working to a tight budget and Dene and Debbie helped with this. Often plans change (mine really) and they assisted with this every step of the way. They came up with brilliant ideas...things I would never have thought of.
They took the pressure off me and made the refurbishment as easy as possible. Deadlines were met, work was completed to a high standard, no mess, no fuss.
They have a great team on board and everyone who came to work at my house were very pleasant... Thank you nest. When I move house again I will be in touch!
Shirley & Peter, Trossachs
House renovation 
Despite our complex and wide ranging project, nest were amazing to deal with. The nest team were excellent. Dene made constructive suggestions and when the work was under way, their staff were pleasant and cooperative. The team worked tirelessly through all weathers to get their work done to schedule.
We had to make a number of changes as the job progressed, but at no time was this ever a problem. When a change was needed, we discussed our ideas with Dene who would clearly define the work in writing with the probable cost. When complete, small snags were promptly and courteously deal with. 
I would highly recommend nest – they successfully transformed our house to a beautiful contemporary home.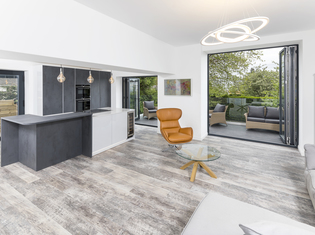 Dawn & Ryan, Southside
House renovation
From the outset, Dene was completely unfazed by the extent of the work involved in our project, and we had complete confidence in nest's ability to do the job well. We have not been disappointed. 
Dene managed the project brilliantly, and it is very clear he is an expert in his field. He organised everything, and rather than presenting us with problems, he gave us solutions. During unforeseen structural issues, Dene kept us informed and we knew the project was in safe hands.
nest's tradesmen are brilliant; the quality of their work is exceptional, and they couldn't have been more polite and personable. They went out of their way to help and nothing was too much to ask. Dene's input in changing the design slightly, and his eye for detail, has been invaluable, and it has really enhanced the project. We are delighted with the end result. 
Debbie kept the show on the road from an administrative perspective, and Dene's hands-on, can-do approach really makes the whole thing run smoothly and efficiently. Dene was always available to discuss changes or issues, and he listened to everything we said. The inevitable snagging afterwards has also been dealt with expertly and efficiently. 
We couldn't recommend nest highly enough – they have made a potentially tricky and difficult project completely painless. Thanks to all the team for their hard work and expertise.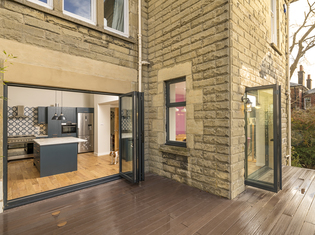 Susan & Duncan, Jordanhill
House extension
Dene and their architects Cameron Webster stood out in terms of carefully listening to our needs and designing a solution to fit them. Dene was patient in listening to my concerns regarding our project and reassuring me. From the outset, I felt confident that we were in safe hands.
nest were amazing in terms of minimising the impact to our lives – no small feat with 2 two small children and a dog to contend with! The nest team are highly professional, neat and friendly – and were a pleasure to be around at all times. The work ran to time and we were consulted every step of the way. The finish nest achieved on the work is exceptional.
nest came highly recommended to us by neighbours and, in turn, we wouldn't hesitate to recommend nest to others and to use them again with any building projects. We are delighted with our new kitchen/dining area and it has truly changed the way we live in our home for the better.
Fran & Doug, West End
House renovation
We had some strong ideas for our project, but little clarity on how it would work or all come together.
When we had our first consultation with nest, they listened intently to what we wanted, and all through the project they kept our wishes central to the plan, while giving inspiring ideas and guidance for how to practically resolve issues. They conscientiously worked within our budget and went the extra mile to find high quality fittings at the best possible price.
The workmen who came were all very skilled and pleasant to have in our home. The finish showed a high level of craftsmanship, and nest clearly took a real pride in making sure that we were totally satisfied.
We think that the end result is utterly stunning, and guests regularly compliment us saying that they think they have stepped into a boutique hotel. We couldn't be happier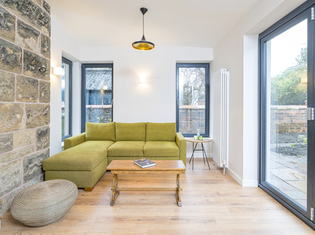 Sarah & Rod, Jordanhill
House extension
One hears so many horror stories about builders these days but working with nest was the complete opposite. Dene was regularly on site to check on how things were going. The team were there every day and displayed high quality workmanship as well as being good company - we missed them when they were finished!
The project was on time and that accounted for a couple of minor changes agreed with nest. We were kept well informed about progress throughout and Dene's keen eye for good design helped the finished product exceed our expectations.  
It is a beautiful additional space to our home that seems to fit seamlessly with the rest of our house. We are delighted and our thanks to Dene and the team at nest for making the extension a stress free experience.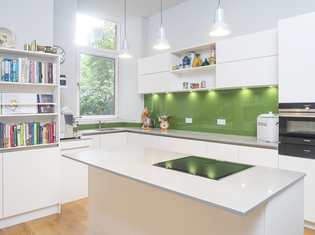 Anna & Stephen, Hyndland
Flat renovation
I came across nest several years ago and made a note to enlist their help when it was time to renovate my flat. Having someone experienced managing the project made it so much less nerve-shredding for me.
nest's tradespeople were tidy, efficient and great fun. It was not all straightforward, with weather, legal issues around a chimney and other logistical problems getting in the way, but nest were fantastic and we got there in the end. The flat now looks as good as I dared to hope that it could.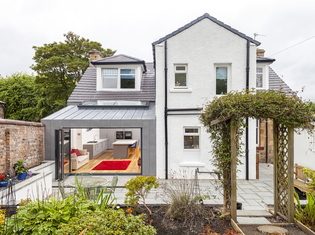 Jim & Audrey, Wishaw
House extension
nest's team of workmen were skilled, efficient and personable. The careful project management by Dene and the nest team has ensured the finished space is transformed into something rather breathtaking.
We are delighted with the finished extension. It has given us a terrific living area, kitchen, utility and toilet/shower room. In addition we have been able to do significant work on the patio which makes the inside/outside transition seamless with large bi-fold doors. 
Most significantly the extension has changed the way we live in our home with the extension now the focus of family living and entertaining. We are delighted with the high standard of workmanship and service from nest and are thrilled with our new space.