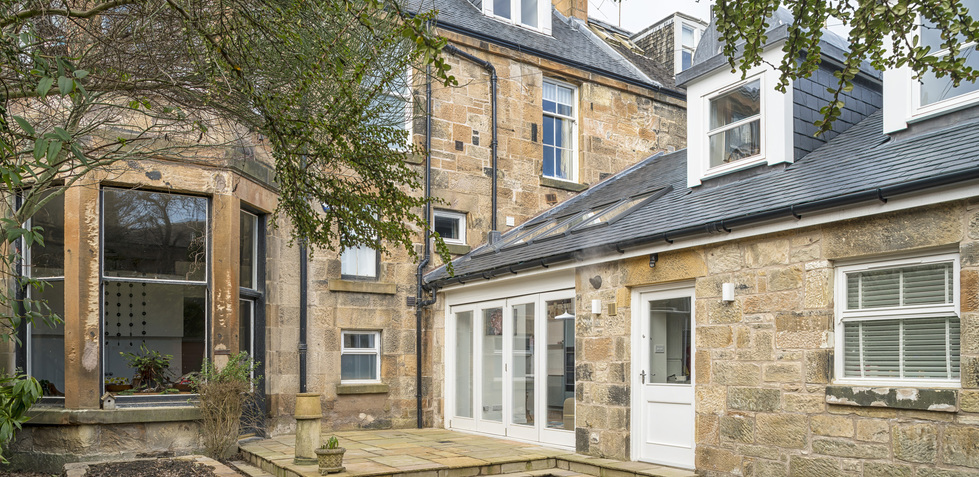 Modern house extension
House extension that blends seamlessly into the original building
The Brief
We were recommended to our Chris and Brian by previous clients – they invited us to build a new sandstone extension and remodel their existing property. The extension they had designed by their architect comprised two bedrooms, a lounge, utility room, bathroom and storage space. This connected to the existing house through a new large structural opening which leads into a large open plan kitchen. In the house, we were also asked to form a new bathroom, mezzanine bedroom and office along with carrying out refurbishment and upgrading of all rooms.
The Solution
First of all we had to carefully demolish an external sandstone outhouse building and create a large a large structural opening in the rear of the three storey sandstone building. This involved major demolition work which was carefully executed by our team.
We recycled all of the sandstone in the new extension and our stonemason made a fantastic job crafting each piece into shape. The drainage system was complicated however we managed to install it methodically.
Bespoke doors and windows were installed along with underfloor heating and a customised kitchen. We worked very closely with our clients developing a unique Pinterest board which we both creatively contributed to. One particular item - the hidden door - was challenging but highly successful.
The Results
The clients were delighted with the result and have written us a most complimentary testimonial:
"We did not want just builders – we wanted a team with an eye on the finished look. We got that. Moreover, nest seemed to care about the end result as much as we did.
They weren't phased by the fact that we had our own architect who used old-school, non-CAD, drawings. He is delighted with how well they've interpreted his plans and he was impressed with all the workmen he spoke to. He also commented on just how much time Dene gave to regular site visits with us.
We were naive to the world of property renovation and busy with our jobs and family/social life. We did not want to have to closely project manage the project - it was a big plus to know that we could rely on nest to sort it and ensure quality workmanship.
Some design elements we had a strong desire/idea about, for example our 'hidden door'. Through various discussions with Dene and a mash-up of ideas and Pinterest pics, nest's joiner Gav created a brilliant panelled wall outcome. Most people cannot see it without prompting. We love it.
With some rooms we lacked ideas (or had decision-making fatigue) and were delighted that nest had great tastes that we were happy to adopt....and when we had some bad ideas we liked that Dene would (gently!) challenge them.
nest are good communicators, mostly by email and/or texts, only phone calls when needed. This was great as we did not want interruptions during busy days at work. They were always contactable too.
nest workers took pride in what they did – they were polite and informed. Their stonemason made a superb job of re-using the original sandstone to rebuild our rear wall; pieced together like a jigsaw – it looks like it's always been there.
We liked the explicit payment plan - pay only for what jobs have been done from a pre-agreed list as it went on. They were quick to inform us of any additional agreed up-costs too.
Great team work: Dene on his motorbike meeting clients and Debbie at back at base making it all happen. Dene used digital dictation so accurate notes are made from site meetings and Debbie created a shared Pinterest board for interior ideas.
nest came highly recommended to us and, we in turn, would recommended them (and have done already) to others."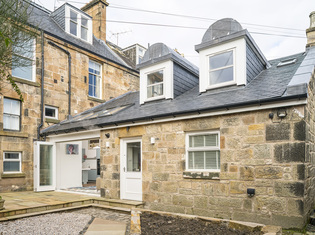 "
It was a big plus to know that we could rely on nest to sort it and ensure quality workmanship.