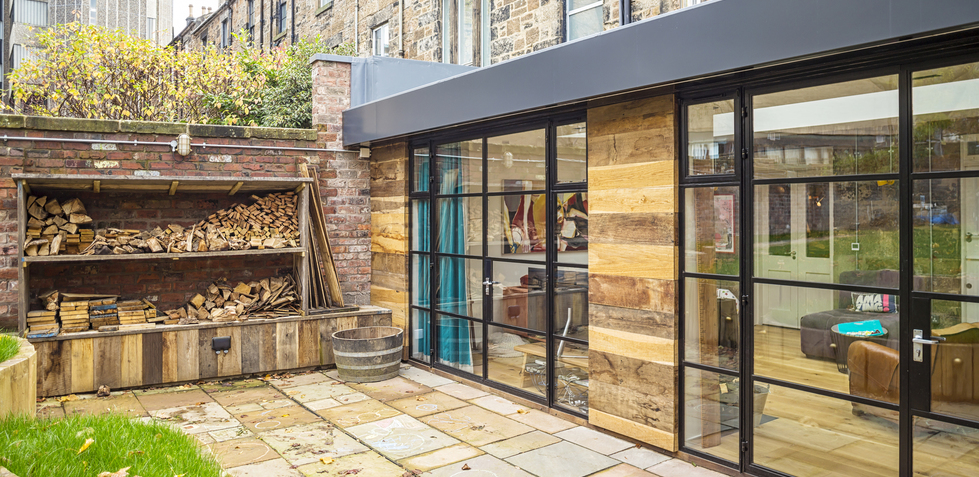 Gorgeous timber clad contemporary extension with Crittall windows
Stylish, rustic garden room home extension in Glasgow's West End.
The Brief
nest successfully won a competitive tender to build a unique contemporary extension in Glasgow's West End. The site was accessed from a busy pedestrianised street which contained a number of bars and restaurants. Health and Safety was paramount onsite ensuring the public were safeguraded at all times.
The project contained many unusual challenges including doors and windows with a 17 week lead time and many changes to the original contract, all of which nest managed to undertake within the original anticipated timeframe.
The Solution
Major excavation, drainage and groundworks were undertaken in order to create a more useable garden space for our clients. nest worked closely with the clients and architect and amended the design in order to ensure the project could be built correctly.
We successfully installed a large steel structure, enormous glazed roof light and green roof. Crittall doors and windows filled the rear elevation allowing light to flood into the new extension. Specialist timber cladding was sourced and applied and a new sandstone patio area was carefully laid. Our men worked late into the evening to install large vertical sleepers which were used to shore up the garden and act as a visual feature.
A brick garden wall was built and a new lawn laid, leading to a new bespoke electric cedar clad security gate.
The Results
nest have created a stunning contemporary, rustic garden room extension which our clients love and use every day. It now gives them direct access to a beautifully landscaped garden, which in the summer time acts as a second living room. On cold winder nights, a new wood burning stove adds warmth and character to the space.