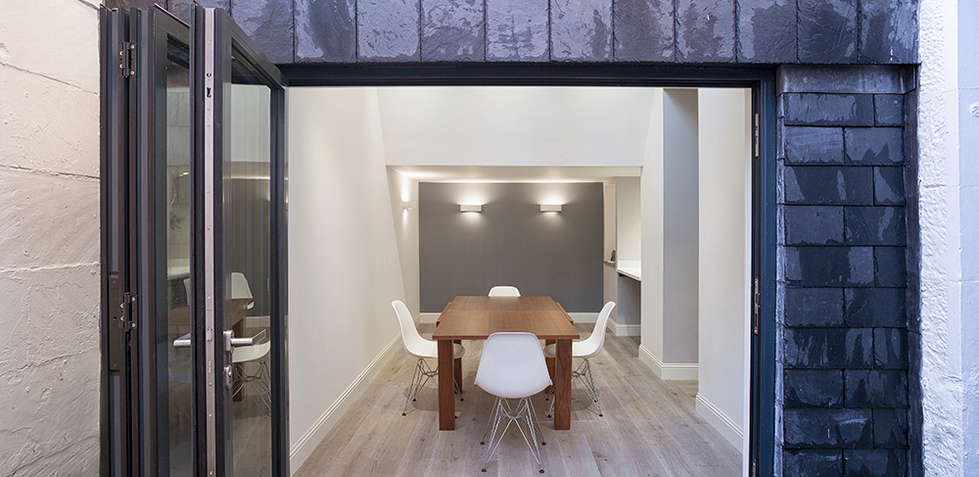 Contemporary, slate clad, kitchen extension
We designed and built a contemporary, slate clad kitchen extension in Glasgow's West End, complete with brand new kitchen and refurbished lounge and office
The Challenge
This was an unusual extension from the start, Julie and Margaret knew nest would be up for the challenge. Their basement flat had a large hallway, a small kitchen with a concreted outside area. Working with our architect Matt from Dress for the Weather, we set about creating a large modern kitchen diner utilising all these spaces to create a new spacious extension where our clients could entertain and relax.
The Solution
It was a very difficult site and we managed to shoehorn an unusually shaped contemporary extension into the space. The slate and zinc roof, create dramatic angles internally and externally allowing light to flood into the rooms. Our team worked tirelessly excavating every ton of mud and block by hand and navigating the very tight site. A new front door entrance was constructed with new steps, gate and external seating and storage.
The Results
Julie and Margaret are delighted with the results and enjoyed working with us throughout the project. We shared scores of Pinterest images to help with the design and planning stages and the results can be seen clearly. Our team finished everything to an extremely high standard and worked tirelessly to ensure that every detail was perfectly finished.
As featured in Homes and Interiors.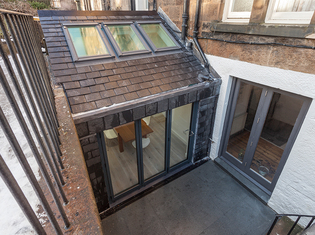 "
Extremely capable contractors with great commitment to design and detail