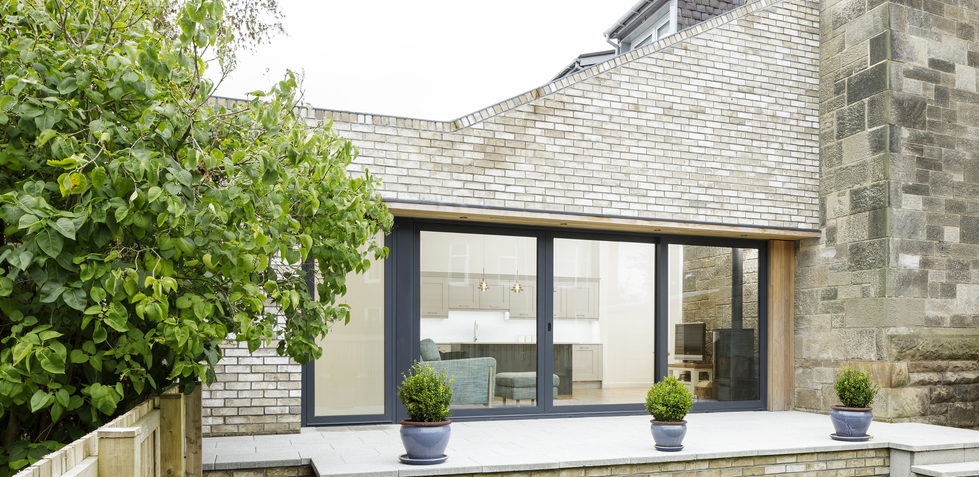 House renovation with stunning contemporary brick rear extension
Full refurbishment and contemporary extension to blonde sandstone house in Jordanhill, Glasgow
The Challenge
Our clients Joanna and Craig bought a house in Glasgow's West End that had been left empty for four years. There was old electric wiring, lead pipes – and even squirrels living in the loft!
The first phase of the project was a total renovation of the house and the second phase was to demolish the small kitchen (a Victorian lean-to) and build an extension for a large kitchen with a dining space, seating area, a boot room and utility room.
We worked closely with Cameron Webster Architects to create a stunning, contemporary extension which complements the existing blonde sandstone and brings it bang up to date.
The Solution
The renovation took place over several months whilst we waited for the building warrant for the extension. This included a full rewire, new central heating system, formation of a new dormer window and master bathroom along with a new downstairs bathroom, internal decoration and flooring.
Once all the refurbishment works were complete we immediately started work on the extension whilst our clients set up a temporary kitchen in the dining room. This involved all construction works including a major structural opening in the side along with new drainage tracks, new patio and landscaping.
The new extension uses mystique bricks which give a natural, contemporary feel. They are are great match with the original blond sandstone and sit well with the cedar cladding. The slate roof ties in with the new flat single ply roof and the four skylights flood light into the spaces.
Creating a feature of the external sandstone wall really brings in character to the new extension and complements the new wood burning stove.
The Results
The new house is hardly recognisable from what it was. The house is modern and fresh with the usual high standard of finish clients expected of nest. The new extension has a spacious feel with the vaulted ceiling and the large Velux windows and the sizeable patio doors means it's flooded with daylight.
It was lovely working with such great clients and we're so happy they are pleased with the final results.
We bought a semi-detached sandstone house which was need of a total renovation. Fully realising the complexities of the renovation and the construction of a rear extension, we were very aware of the importance of securing an efficient project manager to undertake the project.
We spent considerable time researching for architects and building companies that we thought would be best suited for our project. We were impressed by the nest website and their reviews / testimonials, so visited their office and was immediately impressed by Dene and Debbie.
nest are a single point of contact, managing everything from design to architects to planning, through to having carefully selected reliable tradesmen. We wanted to incorporate a downstairs WC & shower-room and Dene came up with an innovative plan. He introduced us to his excellent architect Stuart and we soon agreed on an exciting design for the kitchen extension.
During the process, it quickly became apparent that Dene has great vision, an artistic flair! He works well with architect Stuart and all processes are smooth.
Dene pays great attention to detail and it shows in the quality of the build and finish. During the entire renovation - joiners, roofers, electricians, plasterers, plumbers, tiler, painters, groundworkers, builders etc were needed at various times. nest organised delivery of all materials and scheduled all the tradesmen, so there was no delays and progress was impressively smooth.
Our new extension is stunning – so people tell us and we heartily agree – all thoughtfully planned and so much better than we had initially thought possible.
A project such as ours was never going to be easy, but Dene & Debbie are an efficient and professional team and we're delighted to have benefitted from their experience and excellent service. We have absolutely no hesitation in recommending nest.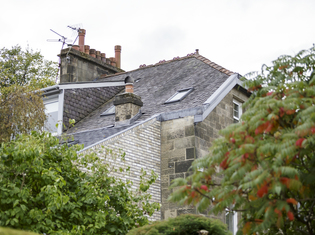 "
Progress was impressively smooth and the attention to detail shows in the quality of the build and finish.