Contemporary house renovation
A stunning renovation of a old sandstone house to open up the rear of the house to the garden.
The Challenge
Our clients, Susan and Duncan were looking to open up the rear of the house and create a stronger connection to the garden from their sandstone house in Jordanhill in Glasgow's West End. With two small kids and a dog, they wanted easier access to the outside and have a large, level area where they could sit, play and entertain.
The Solution
Working alongside Cameron Webster Architects, we discussed various options with Susan and Duncan including extending their property. We all agreed that they didn't need anymore space, rather a reconfiguration of the existing rooms. We removed a large internal wall and formed two large openings on the rear elevation leading to a raised decked area and landscaped, terraced garden. By removing the internal wall this really opened up the dining room and kitchen to create a lovely, large bright room which flows well from kitchen to dining and living space.
The Results
The kitchen is spacious, bright and contemporary and light now floods into the rear of the house. The kids have their own garden area which they're extremely proud of, their dog can now run outside freely and Susan and Duncan can relax and enjoy the new raised terrace entertaining friends when they visit. Everyone loves it!
When we moved into our home, we knew we wanted to change the layout at the back of the house to create an open plan kitchen and dining area, but we couldn't decide how to go about it. We met with various architects, but it was Dene and the architects Cameron Webster who stood out in terms of carefully listening to our needs and designing a solution to fit them. I was anxious about undertaking a big refurbishment in an old house, but Dene was very patient in terms of listening to my concerns and reassuring me. From the outset, I felt confident that the project was in safe hands.
We lived in the house while the work was being undertaken, and nest were amazing in terms of minimising the impact to our lives – no small feat with 2 two small children and a dog to contend with! The nest team are highly professional, neat and friendly – and were a pleasure to be around at all times. The work ran to time and we were consulted every step of the way. The finish nest achieved on the work is exceptional.
nest came highly recommended to us by neighbours who had worked with them and, in turn, we wouldn't hesitate to recommend nest to others and to use them again with any future building projects. We are delighted with our new kitchen/dining area and it has truly changed the way we live in our home for the better.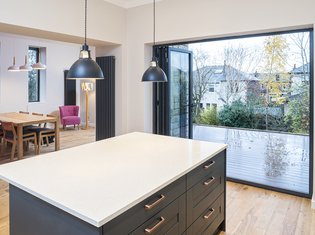 "
nest stood out in terms of carefully listening to our needs and designing a solution to fit them.