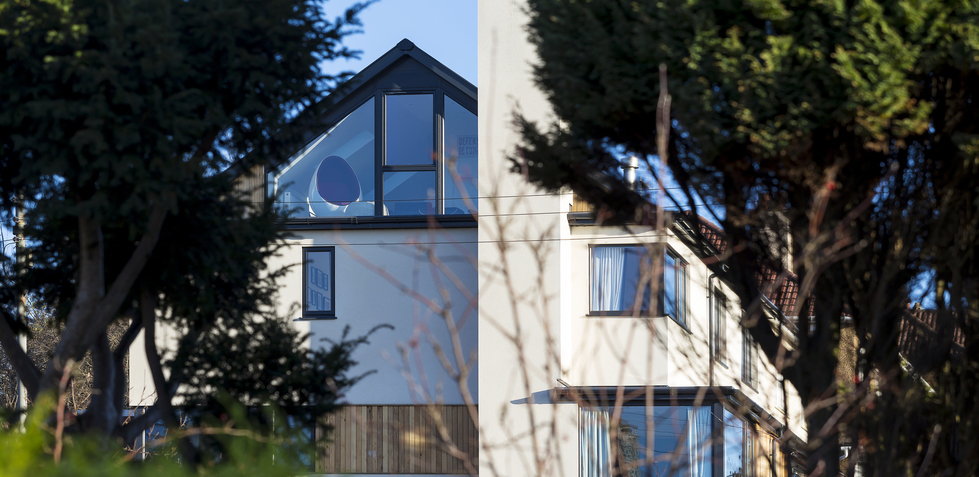 Uber-cool four storey extension and house transformation
The stunning transformation of a standard Jordanhill house to an inspiring new contemporary home
The Challenge
Our house had a large side garden. We'd already extended to the rear but with our twin girls fast approaching their teenage years, we needed more internal space for them and us to enjoy. Extending to the side made sense to us and meant we would still have a good sized front and back gardens.
Externally we wanted the house to read as a whole - not look like an extension bolted onto the side. We wanted it to be contemporary using smooth render and cedar cladding as a finish.
Internally we wanted the house to flow and provide lots of areas where we could hang out as a family and entertain friends.
We wanted the space to feel contemporary light and airy, with flow around the rooms. It had to be practical for family life and able to work for entertaining and parting as well as chilling out and relaxing. We love Scandinavian Design and mid century modernism.
The Solution
We have collaborated on a number of projects with Cameron Webster Architects. We worked with them to design a four storey side extension with a large basement storage area and attic conversion. The extension includes a large open plan kitchen with informal dining and living space complete with a wood burning stove. Upstairs is a master bedroom with ensuite bathroom and sauna, whilst the open plan attic is a fantastic room to relax in and watch the sunsets across the hills. A large storage area has been created in the basement, useful for sporting and camping equipment. Further reconfiguration was made internally to the existing house to make way for a utility room, boot room, bathroom and to create the open plan dining room within the existing extension to the back of the house.
We wanted it to look like you can't quite see where the house has been extended as its not immediately apparent. Working alongside Design Engineering Workshop, they came up with a solution to allow the open plan space to work without the need for any visible internal down stands or posts.
The entire roof of the house was replaced, new roof trusses and roof tiles along with a fully glazed gable end in the attic.
The Results
When you walk into the house, the first thing that people notice is the large, wide hall, which immediately makes the house feel roomy. Pocket doors open up the whole house letting light into all areas. There are a lot of clean minimal lines which makes it stand out from all the mainly traditional houses in the area. It's very unique as there is nothing else like it in the area.
Light fills each room – the walls and ceilings are painted white which helps to bounce light around the house. There's a lot of storage space so everything has a place, meaning the house looks simple and minimal.
It feels very natural and we have used a lot of natural materials in the home: cork, wicker, tweed and timber.
The house has a beautiful flow between spaces – it feels well crafted, well thought through and each room functions well. We took great joy in specifying unusual, reclaimed and hand crafted items to compliment the interiors we designed.
The entire build was carried out by the team at our company nest and managed by ourselves. This included all site supervision, project management, interior fit out and interior design and specification and included all our trades.
We believe our workmen are the best in Glasgow and they all did an incredible job to consistently meet our high standards. We are delighted with the attention to detail and top quality finish.
The house transformation has changed our lives - our home life has improved immeasurably. We live better as a family with communal spaces as well as our own spaces. It is designed around the way we live as a family, for entertaining and for feeling at peace when entering our home at the end of each day.
As featured in Homes & Interiors Scotland and Houzz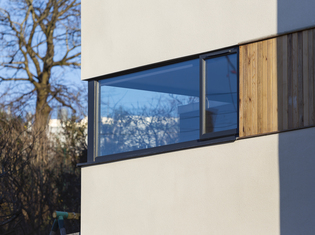 "
The workmen did an incredible job to consistently meet our high standards. We are delighted with the attention to detail and top quality finish.