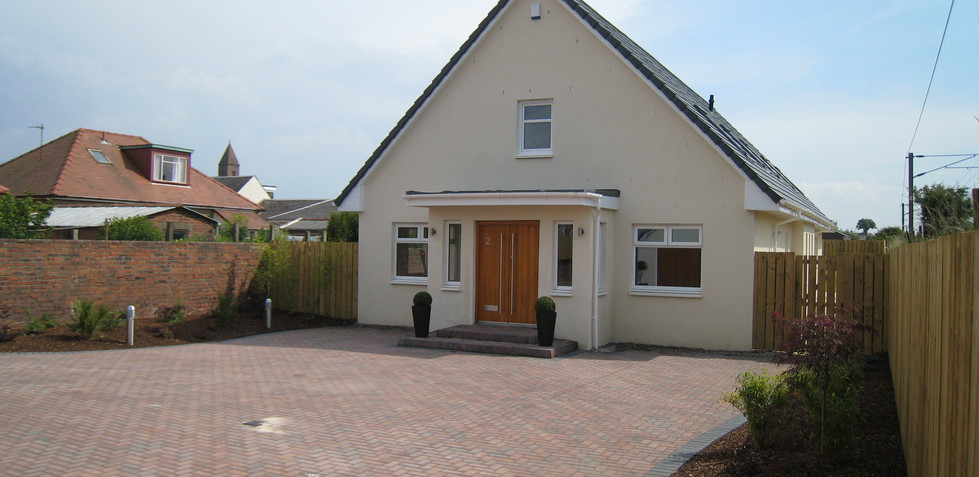 5 bedroom detached new build house in Ayrshire
nest designed and built a modern 5 bedroom detached house and double garage in Prestwick
The Challenge
Having purchased a strip of land next to a railway line, our challenge was to design and build a house suitable for the Ayrshire market. The plot was unserviced and we needed to bring in gas, electricity and water along with drainage. It also sat right next to a busy railway line and required special permission from BR in order to build there.
The Solution
Working closely with our architect we designed a linear house over 2 floors, comprising 5 bedrooms (some ensuite), master bathroom, cloakroom, lounge, utility room, kitchen, dining room and family room. We also built a 2 storey double garage which incorporated a games room and office. Some rooms had sea views looking out towards Arran in the distance. Grounds were landscaped, video monitored gate installed and a long mono blocked drive led to the house where lights were activated as you arrived.
The Results
The house is beautiful but simple. It has a clean render finish with modern features throughout. A bespoke oak staircase with hidden skirting and handrails leads to a vast first floor with lots of natural light. A room divider sits between the lounge and dining room with a built in fireplace which can be accessed from both sides.
This house is really considered - you can tell that when you walk into the large hallway and discover clever features about the house they are there for a good reason."