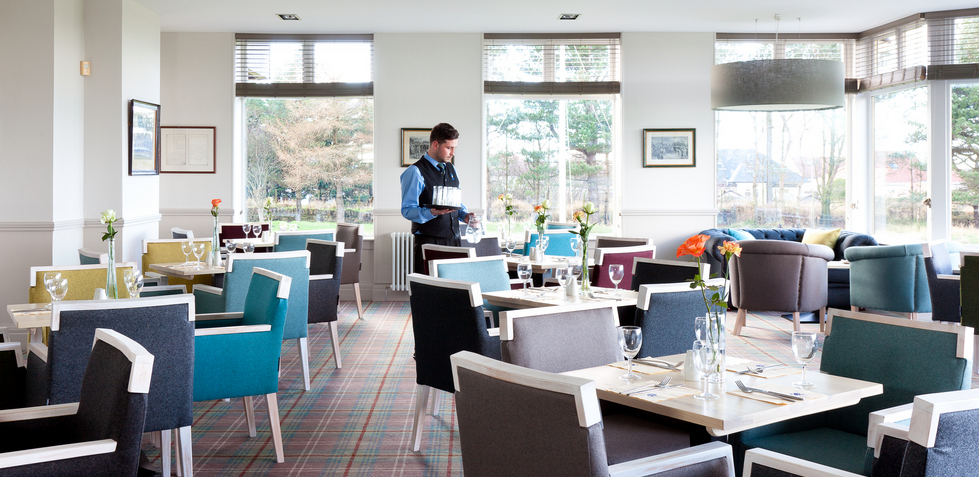 Design and renovation of an Ayrshire Golf Club
The golf club's 1970's interior needed a bit of a change so they got nest round
The Challenge
The golf club's bar and lounge interior hadn't been renovated since the 90's and as you can imagine needed some serious work. Initially the club approached a building company to carry this out, they quickly realised they needed significant design input as well as a company who could project manage the whole thing, that's when they contacted us. The work had to be completed within a set deadline and to a tight budget, we couldn't go over either one.
We worked closely with the committee to create a look and feel which would appeal to a very broad spectrum of members, quite a tricky balance, particularly in a golf club!
The Solution
The club sits next to the beautiful Ayrshire coastline with views across to Arran. We wanted to bring the outside in and used a muted palette of greens, blues and whites, reflecting what you could see on a clear day across the course. We incorporated Scottish tweeds and a muted tartan carpet alongside contemporary stainless steel and oiled oak. New England wall panelling and fixed seating in the bar created a warm relaxed atmosphere.
We carefully selected archived prints and photographs of past members and old competitions to add character and offset the modern furniture and lighting we sourced.
The Results
The rooms are now bright, airy, modern and welcoming. The members comment that it's great to now be able to see the course, it's like it's somehow closer to them in the lounge.
The Club's membership is now on the rise again with an increase in golfers travelling down from Glasgow and further afield to play. The golf club are delighted with the refurbishment, so much so that they now want to transform the rest of the interior.
From the initial planning and outset of the project it was good to deal directly with Dene. His vision, expertise and communications were excellent; including prompt updates by phone and e-mail and sufficient time was always given for meetings.
All tradesmen were amenable, worked to a high standard and left the workplace clean and tidy. Throughout the project the use of high quality materials and finishes was evident and an experienced and reliable team strictly adhered to CDM requirements.
The whole project was managed very well from concept to completion and within budget and timescale. Overall we were very pleased with the result and would not hesitate to recommend nest for your project."