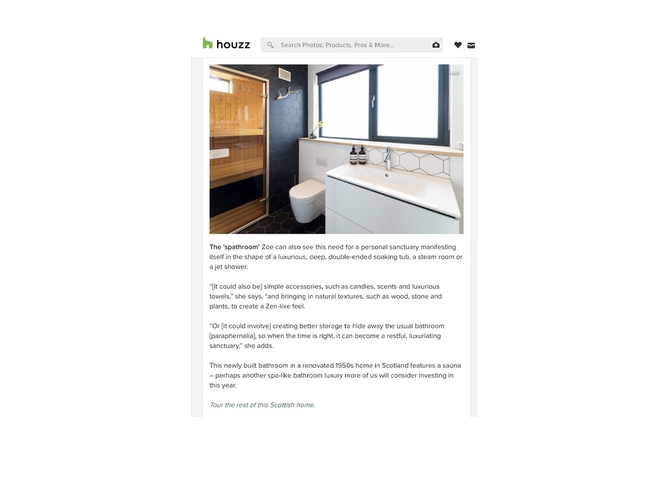 One of our bathrooms is featured in a Houzz 'future trends' article
The article by Houzz's Editor Kate Bert, features one of our bathrooms in relation to Bathroom Trends for 2021.
In the article, Zoe Perks of No 54 Interiors has highlighted the 'spathroom' – a need for a personal sanctuary manifesting itself in the shape of a luxurious, deep, double-ended soaking tub, a steam room or a jet shower.
"It could also be simple accessories, such as candles, scents and luxurious towels," she says, "and bringing in natural textures, such as wood, stone and plants, to create a Zen-like feel".
"Or it could involve creating better storage to hide away the usual bathroom paraphernalia, so when the time is right, it can become a restful, luxuriating sanctuary," she adds.
"This newly built bathroom in a renovated 1950s home in Scotland features a sauna – perhaps another spa-like bathroom luxury more of us will consider investing in this year".
You can read the article in full here.