Testimonials
Lorne and Jane, Southside
Refurbishment
We liked nest from the start - their approach and attitude was different to other builders.
They could not have been more helpful throughout the project and provided useful recommendations on design, materials and decor when required - which made the process easier for us. 
Their workmen were hard working and pleasant to deal with and took pride in their work.
We had a deadline to stick to and nest went the extra mile to ensure the project was finished on time and to a high standard"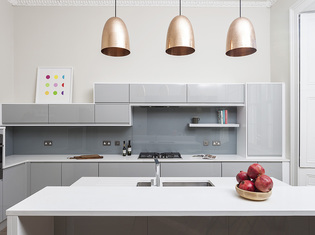 Ali and Martin, West End
Refurbishment
From the moment we began working with nest on the project, we knew we had made the right decision to award nest the contract. Dene's approach combined professionalism with approachability which made it easy to discuss concerns and ideas as the project progressed. His advice and choices of materials have been fundamental in how beautiful our new house has turned out. We are both over the moon!
During the project any issues were dealt with quickly and we always got the impression that it was just as important to nest as it was to us that the work and finish was of top quality. The tradesmen have always gone out their way to be polite and respectful of the fact they are working in someone's home. This was also much appreciated.
We couldn't speak highly enough of nest and would not hesitate in recommending them to friends or working with them in the future. They have helped us achieve something we have worked towards for a long time and we are very grateful."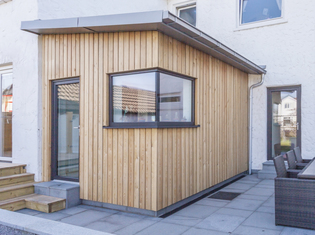 Jude and Gordon, Southside
Extension
nest took the plans we drew up with our architect, and working closely with him and us, achieved just what we were looking for and more. 
We are delighted with our extension, utility room, bathroom and patio.
nest's tradesmen work to a very high quality and I cannot fault them. Attention to detail ensured an excellent finish. They were professional and personable – a great service."
Fiona and Jonathan, Southside
Extension
Dene and Debbie run a "can do" business with the emphasis on an exacting quality finish provided by high standard trades people whom we were comfortable with in our home.
The utility/shower room extension was built to a precise standard in our conservation area house. The kitchen involved knocking down a number of supporting walls and making a few unexpected discoveries in the process, the original kitchen range fire place without a lintel to hold the house wall up probably the most serious. The unexpected was dealt with immediately and professionally. 
I loved the inventive use of resources, our shower room cupboards are made from the scaffolding planks and look terrific. The old kitchen units, in excellent condition were rearranged into the utility room with more style than before. 
The new kitchen area revolutionises the house, looks fabulous and the fabric of our home is better now than it has been for decades. The design was a challenge however the result is stunning."
Fran and Doug, West End
Refurbishment
We had some strong ideas for how our refurbishment would look, but little clarity on how it would work or all come together.
When we had our first consultation with nest, they listened intently to what we wanted, and all through the project they kept our wishes central to the plan, while giving inspiring ideas and guidance for how to practically resolve issues. They conscientiously worked within our budget and went the extra mile to find high quality fittings at the best possible price.
The workmen who came were all very skilled and pleasant to have in our home. The finish showed a high level of craftsmanship, and nest clearly took a real pride in making sure that we were totally satisfied.
We think that the end result is utterly stunning, and guests regularly compliment us saying that they think they have stepped into a boutique hotel. We couldn't be happier."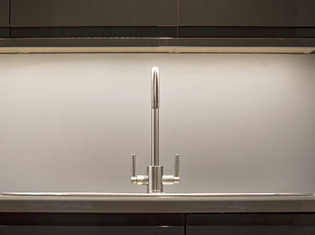 Anne and Derek, Park area
Refurbishment 
When we decided to modernise and renovate our place in Glasgow, we wanted a company who were able to project manage the work as we are away for long periods. 
With nest we not only got all the required trades and project management, we got a huge amount of creative input to turn our rough ideas into workable solutions. 
nest are not afraid to say "that might not work" and offer a better solution. I have no hesitation in using nest for our next project and recommending them."
Angela, Park area
Refurbishment 
From the first touch I knew nest was different from any other development firm I had experienced. They appeared on the day they had arranged to meet with me, on time, well organised and professional – so definitely not your stereotypical builder!
I felt reassured from the first meeting that I was in good hands. The combination of design skill with the practical works being undertaken has resulted in a fantastic working environment for us in our new office and I would not hesitate to recommend nest again and again."
Andy and Hanneke, Hyndland
Refurbishment 
When it came time for us to renovate, we gave nest a plethora of ideas and inspirations we'd picked up on our travels.  
They executed them perfectly, capturing the essence of beautiful interiors with the practicalities of good design and a homely feel, and in keeping with the overall aesthetic of our property. Tiling, plumbing, electrical and woodwork were all done seamlessly by a great team under nest's direction, and they were an invaluable help in sourcing the special fixtures and fittings we'd requested. 
Even the inevitable snagging was minimal and completed quickly and efficiently, and we are now extremely happy with the quality of both design and building works. I would have no hesitation recommending nest."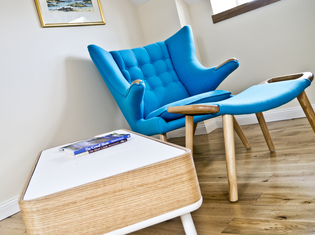 Lesley and Alistair, Dunoon
Reconfiguration / refurbishment 
When we decided to redesign our house, we were looking for a company that were able to supply a complete package from concept to design and project management of the works.
Having read about nest in Homes and Interiors magazine, they appeared to provide exactly what we were looking for. They certainly have and we are really pleased at the personal attention and guidance that nest has provided. We love the end result!"
Simon and Rhona, Kelvinbridge
Loft conversion 
We could not have hoped for better when we engaged nest. Thanks to the team's hard work and patience we have a fabulous new room at the top of our house which allows us to make the most of our home.
nest made the process straightforward and completed the loft conversion in the specified timescales and budget. We would have no hesitation in recommending nest to others."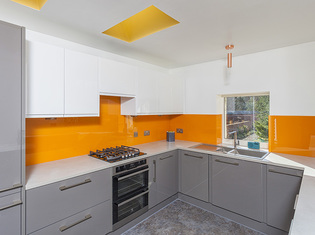 Nicola and Brian, Southside
Refurbishment
nest carried out the refurbishment of our Category A listed house with efficiency.
It was not the easiest of projects due to the age of the property, but nest were great in organising additional trades and maintaining a high quality of workmanship. We would not hesitate to recommend nest."
Betty, Ayrshire
Extension
I'm very glad that I made the decision to use nest to renovate and extend my bungalow.
nest pay great attention to design, detail and quality and this is evident at every stage in the build.
A detailed plan of the building process is drawn up at the start and this is meticulously adhered to. It was obvious that time was never wasted and work was never needlessly held up – which has not been the case with others I've heard of. 
I have been very impressed and totally happy with the speed at which work was carried out and the excellent quality and finish of the build and would recommend nest as a first class builder to anyone."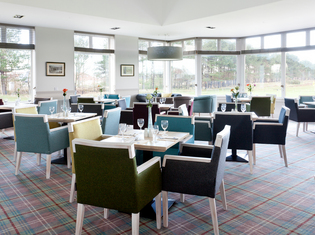 Olivia, Barassie Golf Club
Refurbishment
From the initial planning and outset of the project it was good to deal directly with Dene. His vision, expertise and communications were excellent; including prompt updates by phone and e-mail and sufficient time was always given for meetings.
All tradesmen were amenable, worked to a high standard and left the workplace clean and tidy. Throughout the project the use of high quality materials and finishes was evident and an experienced and reliable team strictly adhered to CDM requirements. 
The whole project was managed very well from concept to completion and within budget and timescale.
Overall we were very pleased with the result and would not hesitate to recommend nest for your project."
Jennifer, Southside
Reconfiguration / refurbishment
nest helped us turn our drawings into reality. They understood our requirements from the beginning and worked with us throughout to ensure everything was completed to a high standard.
The project manager was on site regularly to ensure the project was completed on time and to deal with any unexpected issues. The tradesmen were all excellent and worked well together as a team. We would recommend nest to our family and friends and to anyone who plans a special project like ours".
Debbie, Jordanhill
Extension
Unlike other building companies, nest help with whole extension process from start to finish with one point of contact - which was a godsend to us to make things easier as we have work, kids and busy lives to deal with.
We are delighted with the finish and the overall result. We love the amount of light that we get flooding into the back of the house. In the summer, the garden really comes into its own. The kids run in and out and the extension has made the garden feel like another room.
The extension makes the perfect family room and building the deck has given us a really useable outdoor space."
Melissa, Bearsden
Refurbishment 
With two small kids, busy jobs and strong opinions on design, we were tough clients.
nest however managed to develop our kitchen, utility, dining area and outside decking conversion perfectly. We are really happy with the end result - it has made a huge difference for the better! nest really exceeded our expectations."